Lavarellahütte(2042m) – skidepot Zehnerspitze (~2980m)
After a good breakfast at the Lavarellahütte, we head for the "main tour" of the area, enjoying the excellent weather and the amazing panorama. The Dolomites are indeed very impressive mountains. The rock solid autobahn ascend tracks bear witness to the abundance of alpinistas of the past weekend. Today is Monday and the number of ski tourists are easily counted.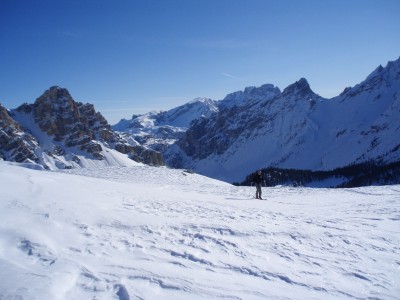 We ascend in gemütlichen tempo, enjoying the scenery, the wonderful
weather and almost perfect conditions, first over the flat valley and
then in serpentines climbing the increasingly steep eastern face of the
Zehnerspitze. Our guide book had stated the tour as difficult due to the ferrata fleading to the summit. At the ski depot we also realised why this was the case. The klettersteig is steep and exposed. Most of the people that day actually ascended to the summit, some safeguarding using harness, some without, but we were all in agreement to leave the summit in favour for a long and prosperous life… Using a guidebook from an author you don't know, always requries some tours in order to get the grip of his/hers levels of difficult — at least now we now that when this guy says difficult, it is scary…
For the descend we choose the easternmost and steepest part of the face, where there still were some untouched patches. As the the snow wasn't fully transformed, we didn't want to let the slope waste too much time in the sun. The dowt to the"citadell" was fantastic. The rest of the descend is more to consider a transport back to the Lavarellahütte.
Back at the cabin, the sun was pouring in over the terasse, were we could enjoy a cold goldener pokal (or four), and continuing the endless discussion which of the mountains were Marmolada. In the end I do believe Micha were right.

Date: 16th March 2009
Skiers: Micha, Staffan, Tapio
Location: Fanes, West Dolomites, Südtirol, Italy