Lavarellahütte (2042m) – Limojoch (2174m) – Col Bechei Dessora (Pareispitze) (2794m)
For the last expedition of our short Dolomitian adventure we had chosen to conquer the Col Bechei Dessoura. At eight o'clock we start to ascend to the limojoch just above the Faneshütte. From there the tracks traveses along a steep face north of the limosee. Above the limosee a long and flat valley shows the way towards the summit. Again we have a magnificent view including Marmolada according to Micha. The skies are clear, but a chilly wind is blowing, making out hopes of nice firn vanish quickly as we ascend through the windpacked snow of the table top valley.
At about 2500 m above sea level, the flat valley comes to a stop, and we turn northbound climbing a steep , and I mean steep, face, frozen rock solid, towards the summit. Allthough a fall wouldn't cause any bigger harm, except maybe a setback of some 200 vertical meters, the gradient makes my heatr beat some ticks faster than usual (or was it jaust the high altitude). Fortunately my harscheisen works beautifully, and apart from one spitzkehre, where I end up beween some loose snow and some rocks and need around five minutes to perfom the lappkast, the climb wasn't all that bad after all. After the steep face there is a small plateau, from which there is a small ridge and a final ascend to the summit. The last part looked worse than it actually was. I seriously considered skipping the summit today as well, but in comparison to the steep face behind me the last 20 vertical was indeed a kinderspiel…
The feeling on the summit: fantastic.
The descend was crappy, which however was quickly forgotten over a last weissbeir at the Lavarellahütte before gliding down to the biggest ski touring parking lot north of sahara…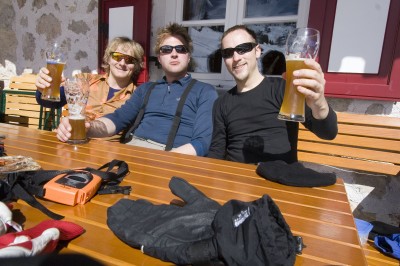 Date: 17th March 2009
Skiers: Micha, Staffan, Tapio
Plats: Fanes, West Dolomites, Südtirol, Italy